A Lewisville roofing and building inspection is a vital part of roof repairs and installation and also alerts you to needed new roof installation. Many homeowners, however, put off roof inspections, perhaps not realizing its importance or assuming all needed inspections will be scheduled by their roofing contractors.
Before you write a check for your Lewisville roofing contractor, you might note why you want to schedule a roofing inspection. It's also vital to consider the advantages of a regular Lewisville roof and building inspections and especially as your home's roof gets older and more likely to need repairs or replacement.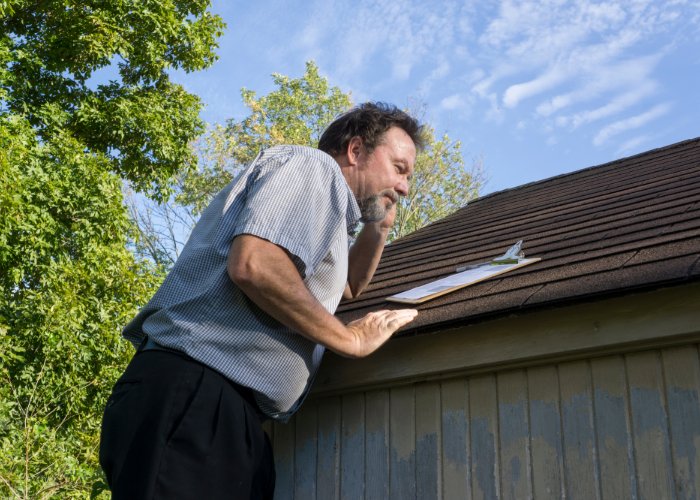 1. Get a Lewisville Roof Inspection Before Paying for Repairs
Your roofing contractor in Lewisville will typically get permits for the work you need to have done, but don't assume they'll also schedule inspections along the way. Several Lewisville roofing and building inspections are needed to ensure a contractor's work is done according to code and that nothing is overlooked. A final inspection also tells you if their work is actually finished and that they haven't made any mistakes or took any costly shortcuts along the way!
A homeowner might also schedule their own roof inspection after getting a bid from a roofer, to compare damage found by the contractor with the report from their own inspector. While most roofing contractors in Lewisville are very reliable and trustworthy, getting an inspection is like getting a second opinion, reassuring you that you'll be paying only for roofing work you need.
Scheduling a final Lewisville roofing and building inspection before writing your last check to your roofers protects you from paying for shoddy repairs, and ensures that those repairs or new roof installation will last for years to come. Your costs for inspection are then offset by knowing you are less likely to need added repairs or other fixes down the road.
2. Schedule Lewisville Roof and Building Inspections During New Construction
When planning new home construction, you can never have enough Lewisville roof inspections! Those inspections tell you if construction is proceeding as planned and if your contractors are offering high-quality construction and using durable materials every step of the way.
These Lewisville roof inspections should be scheduled several times during the construction of your new home; this includes before roof construction starts, to ensure rafters and joists are solid and stable. You should also schedule Lewisville roof inspections several times during construction, typically after each layer is installed, to ensure nothing is overlooked and that your contractors are using only high-quality materials and installation techniques.
3. Lewisville Roof and Building Inspections Spot Damage After Storms
After storms have moved through the Lewisville area, it's vital that homeowners schedule needed roof inspections. Even the strongest, most durable roofing material can pull away from connectors in high winds or get stripped and otherwise damaged when exposed to heavy rain, hail, and other inclement weather. Hail especially can dent shingles and underlying roof decking, increasing the risk of cracks and other damage.
Ignoring weather damage along a home's roof can then lead to interior water leaks, pest infestation, and even mold growth. That storm damage can also get worse over time; shingles rely on each other for support and need a durable foundation to stay in place, so a few missing shingles now can mean costly roof repairs the longer they're ignored. A high-quality Lewisville roof and building inspection after a storm can alert you to needed repairs or even a new roof installation, protecting your home and avoiding otherwise unnecessary fixes.
4. Aging Homes Need Regular Lewisville Roof Inspections
As with all building materials, roof shingles and tiles have an expected lifespan. Once they reach the end of that lifespan, they need replacing; scheduling reroofing before shingles are completely worn protects your home from damage and ensures interior spaces are insulated properly! Note, too, that the more you neglect roof repairs and maintenance over the years and the worse the weather, the more likely those roofing shingles and tiles will need early replacing even before the end of that lifespan.
To know if your older home needs a new roof or extensive roof repairs, schedule a high-quality Lewisville roof and building inspection. This is especially vital if you haven't invested in a new roof in many years or see signs of settling and shifting inside the home, which can mean roof damage and other needed structural repairs.
5. Schedule Lewisville Roof and Building Inspections If You Notice Signs of Damage
Signs of roof damage, including water leaks along with interior ceilings and mold growth behind walls, can actually be caused by plumbing leaks, holes in exterior walls, and other such structural issues. This is why it's vital you schedule Lewisville roof inspections if you suspect roof damage before you call roofers, plumbers, or other contractors, or start tearing off shingles yourself! A full-scale Lewisville roofing and building inspection can tell you why your home's interior is suffering water leaks or mold and other damage, so you schedule needed repairs with the right contractor.
Lewisville roofing and building inspections also note the extent of any damage and if you've overlooked needed fixes in the home, such as mold growth or pest infestation. Scheduling repairs as quickly as possible keeps that damage from getting more extensive, as said. If you notice water leaks, mold behind walls, cold drafts in winter or a hot and humid environment in summer, a stuffy attic that smells of mildew, or a spike in your utility bills, or any other signs of roof damage, schedule a roof inspection for your Lewisville home as quickly as possible.
Keep these points in mind over the years and ensure you schedule Lewisville roof inspections as often as needed, and especially if you think your home needs roof repairs. A full-scale inspection is also helpful during and after the repair process, so you know your contractor is offering high-quality work and materials. Your investment in Lewisville roof and building inspections pays for itself in knowing that your home's roof is in good condition and that your repairs or new roof will last for years to come!